The global pin insertion machine market is expected to reach over $240 million by 2026, while manual pin insertion is expected to reach around $55 million.
The rising dependence on automatic and semi-automatic pin insertion is no surprise. Pin insertion machines are quick, precise, and efficient, saving you time and money.
You must think differently about your processes if you're going to see the benefits of increased production, and one of the best ways to do that is to invest in automated pin insertion machines.
If you're considering making the transition from manual to automatic processes, you aren't alone. However, there's a lot more to this process than writing a check.
It's important to learn a little bit about what to expect as you make this change. Here's a quick guide on the benefits of automated and semi-automated pin insertion machines and how they compare to manual insertion.
Automated and Semi-Automated Pin Insertion Machines
Automated and semi-automated pin insertion machines are quite versatile and can be used for a wide range of equipment. Because of this, they are found in a variety of industries. This includes:
This P300 Pin Insertion Machine from TE Connectivity can work as a standalone or on a production line. It's suited for PCBs and a number of other applications (source).
Consumer electronics
Industrial machinery
Medical equipment
Telecommunications
Automotive and aerospace
Military and defense
Therefore, with automated and semi-automated pin insertion, it is possible to make speed sensors, security systems, and safety systems easier and more efficient. These machines are precise, cost-effective, and flexible, so they can better meet demand.
With the current trend for compact devices, the ability of these machines to be precise is especially important. Manufacturers need to use increasingly precise techniques to insert connectors on a printed circuit board (PCB).
Automated and Semi-Automated vs. Manual Pin Insertion
Automated, semi-automated, and manual pin insertion machines can be found in manufacturing processes today.
Manual pin insertion can be time-consuming work, especially with how small printed circuit boards can be.
While automated and semi-automated pin insertion is common across a wide range of industries, many have not yet moved on from older manual processes to newer semi-automated or fully-automated ones. There can be a variety of reasons for this, like a reluctance to invest in and install new machinery or move away from an already established method.
Reasons For Automated and Semi-Automated Pin Insertion Machines
Automated and semi-automated insertion machines are popular for their dynamic functionality and heightened performance. They are especially ideal for creating a high volume of products or products with complex designs.
Manual pin insertion involves a lower installation and investment cost. However, pin insertion machines allow you to create products at a lower cost.
Automatic pin insertion machines are also more precise and remove the risk of human error. This lowers the number of inconsistencies and other problems when inserting pins on PCBs.
Pin insertions machines are also faster than manual methods. This makes them more cost-effective, especially when combined with their precision.
Limitations of Automated and Semi-Automated Pin Insertion
The benefits of pin insertion machines can only be enjoyed with quality processes and components.
Otherwise, you may find yourself facing problems that can damage your machinery and cause pin coil breakage, machine downtime, and other issues that can affect production.
Some issues that can affect production include:
Inconsistent pin lengths or "Pitch" problems
Tips with Abrupt Transitions and Burrs
Uneven Winding and Tangles
Sharp Cut-Offs
Scraping of Plating on Mating Connector
With a reliable pin manufacturer, such as Bead Electronics, you will not have to worry about these issues. A reliable pin supplier will have quality processes to prevent these problems. This will allow you to benefit from the efficiency of your pin insertion machine and worry less about any potential problems.
Reasons For Manual Pin Insertion
Manual pin insertion machines are still used in established manufacturing processes. This is especially the case in initial pin insertion operations.
They were also used for large, heavy, and oversized component placement. This is because of the perception that components in non-standard packaging may be more difficult for an automated or semi-automated machine to handle.
However, automatic pin inserters are quite versatile, and as technology progresses, this will be even less of a concern.
In some cases, there may be some reluctance to shift from a tried-and-true manual method. Using a new automated or semi-automated process can require a significant investment, especially if it involves installing new machinery. Many want to make sure the investment is worth it before they invest.
If a process is already working, there may be a reluctance to switch over and buy the equipment for automated or semi-automated pin insertion.
Restraints of Manual Pin Insertion
With the trend for compact devices, it is essential to be precise when handling the ever-decreasing size of printed circuit boards.
In the past, PCBs were hand-assembled with components that were larger and easier to handle. Today, the small size and complexity of electronic parts make it a challenge for a human to assemble in an accurate and consistent way.
Plus, as every inch of a printed circuit board is used, there is little to no room for a person's fingers to place the parts.
Manual pin insertion is also much slower than automated or semi-automated insertion and takes more manpower. It would take several skilled assemblers or technicians to do what a pin insertion machine can. Even then, the work would not be at the same speed or consistency.
Quality Pins for Automatic Pin Insertion
When there are problems with your pin insertion machine, it is not only inconvenient but also costly. You may find yourself having to deal with a variety of problems. This includes pin coil breakage, increased insertion forces, machine downtime, and unreliable contact pins.
Bead's unique pin swaging process ensures consistent dimensions and pin lengths. We design precise tips to minimize the scraping of mating parts and lower the required insertion force. They also increase the reliability of high-speed insertion.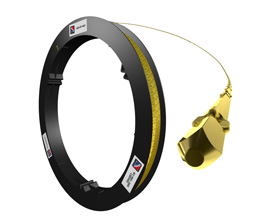 With Bead's Tandem Pins®, you are guaranteed to have one of the highest quality pins available. This will ensure your manufacturing processes are smooth and efficient.
If your automated insertion machines are constantly breaking down, your equipment may not be the problem. Plus, it's more expensive to repair or replace your equipment than it is to evaluate your continuous-reeled pin supplier.
About Bead Electronics
Bead Electronics, is a global manufacturer of electronic connector pins and has been manufacturing in Connecticut for over 100 years. The award-winning company carries over 500 patents and is best known for inventing its manufacturing process called swaging. This process is a high-speed, virtually scrap-less, cold-forming process capable of producing a wide size range of metal electronic components that are consistent and cost-effective. The family-owned business is led by its fifth generation. Click here to speak to a connector pin specialist today.